Switching to another mapping program can be a painful experience if you don't want to lose your content, but onX Backcountry gives you the ability to upload this information into your onX Backcountry account to ease the transition.
Table of Contents:
Downloading Saved Maps from AllTrails.
Uploading Saved Maps into onX Backcountry.
Downloading Saved Items from AllTrails
Go to AllTrails.com and click "Saved" in the upper left corner, then click "My Maps" in the drown-down menu.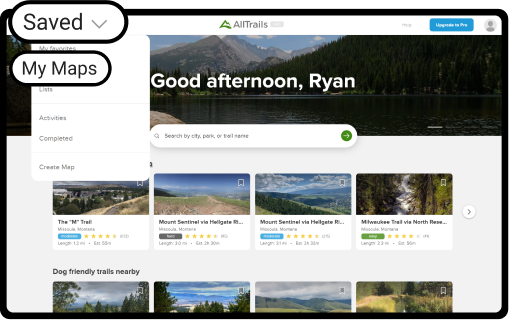 In the menu on the left, click the map you want to export.
Click the "more" button above the map's name, then click "Download Map" in the drop-down menu.
Select "GPX Track" and click "OK."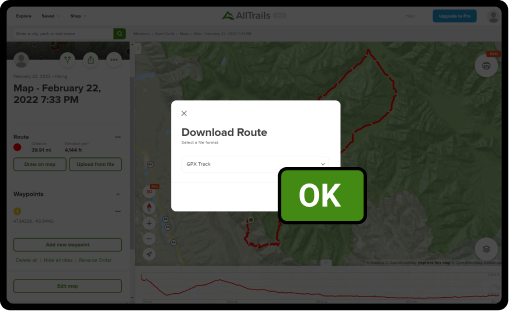 Uploading Saved Maps into onX Backcountry
Click here to log into the onX Backcountry Web Map. Click "My Content" on the left side of the screen.
Click "All Content."
Click the "Import" button at the bottom of the menu.
Click "Select from computer" and choose the GPX file you exported from the first application, or drag the GPX file from your file browser window into the box, then click "Import" at the bottom of the menu.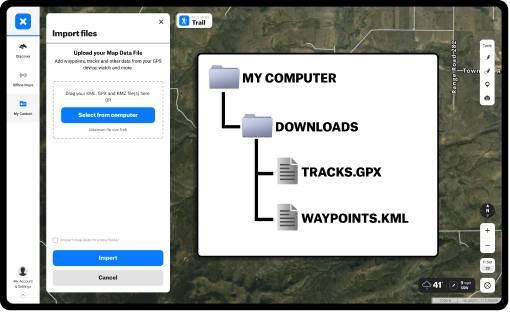 This will transfer the position, size, and name of the Markup, but not the Markup's icon, color, line style, line weight, notes, or photos. After Importing Markups in Web Map, it may take them a few minutes to show up in the mobile app.